PRODUCT FEATURES
COMMENTS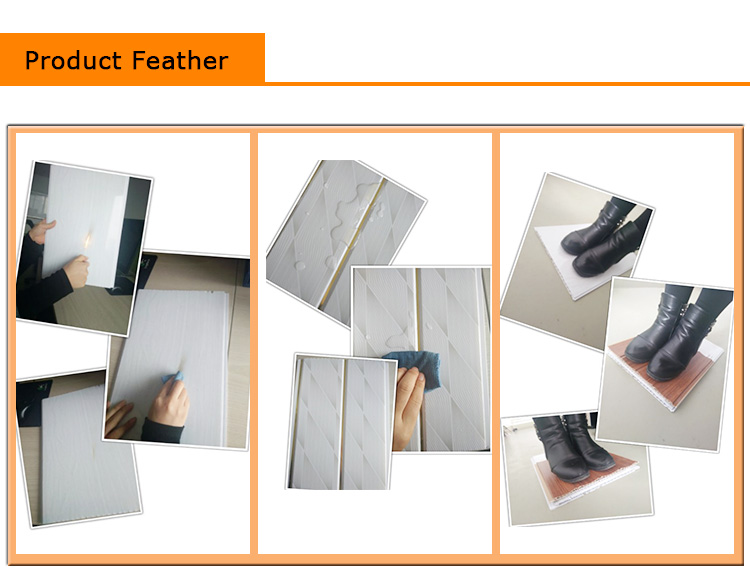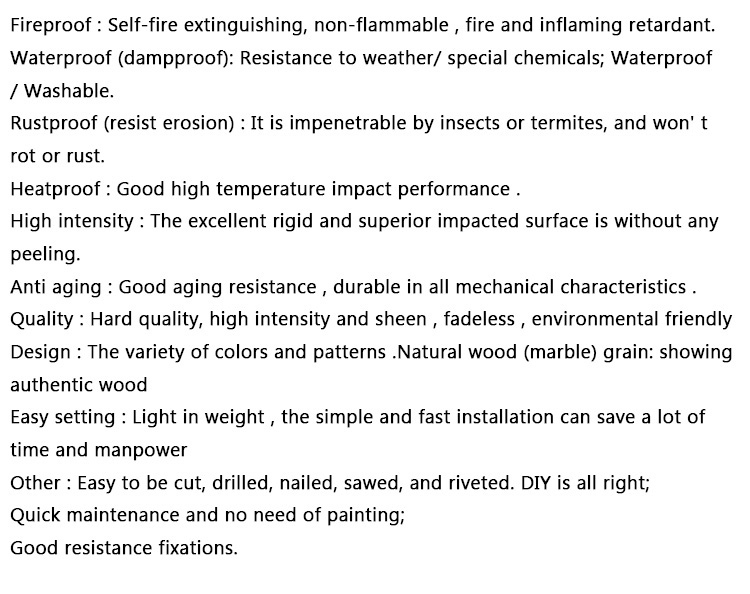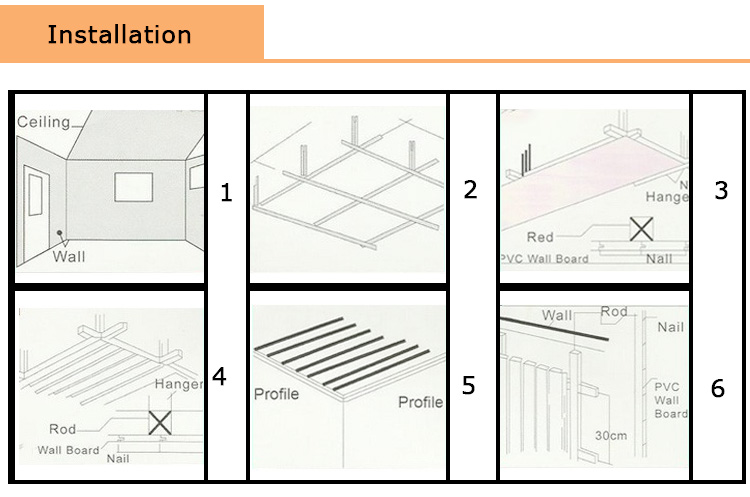 Installation
1. Select the first board and fix it onto the wooden framework.
2. Use a special designed connector to fasten the next board.
3. Fix the next board onto the wooden framework.
4. Continue this step until you hit the end of the ceiling.

10 easy steps to a complete makeover:
Step 1: Secure a corner support rail with nails, stapler guns, screws, liquid nails, etc so that it is securely fastened
Step 2: Fasten the top and bottom support rails.
Step 3: Cut the panels to size using a handsaw, electric saw or sharp blade.
Step 4: Slide the panel in at the top support rail and ease it into the bottom support rail.
Step 5: Make sure the first panel is attached securely to the corner.
Step 6: Take the next panel and repeat Step 4.
Step 7: Slide the panel to the previous panel making sure the tongue locks securely with the groove.
Step 8: Repeat Step 6 and Step 7 until you reach the end.
Step 9: If required, cut off any access to fit.
Step 10: Install a support rail to complete the installation.
Products

proffesional manufaturing plastic bathroom panels, and plastic board, also plastic boards,

Row materials

pvc resin & calcium powder

Brand

sonsill or OEM

Size

Width: 15cm, 18cm, 20cm, 25cm,30cm, 40cm,59.5cm

Thickness:5mm, 6mm, 7mm, 7.5mm, 8mm, 9mm,10mm

Length: 2.95m or 5.95m, as requirement

Surface treatment

mat, glossy printing, hot stamping,laminated

Features

--Lightweight, easy to transport, durable

--Highly resistant to moisture and mold

--Easy to maintenance, quick and easy toinstall

--Waterproof, fire resistance,

--Vivid range of colors and designs

Application

can be used in offices, Lobbies, Super Markets, Malls, Modern class rooms, Auditoriums, Libraries, Hospitals, Clinics, Multiplexes, Gaming Zones, Cinema Halls, Studios, Art Galleries, Exhibition centers, Clubs,Gyms,Beauty Parlors,Salons,Fitness Studios, Yoga Centers, Book Stores , Home Decoration , Rest rooms , washrooms