PRODUCT FEATURES
COMMENTS
exterior tiles wall, exterior design tiles, house exterior tiles design, home exterior tiles designs
1. Material: stone powder, high polymer material, fiber etc
2. Advantage: Flexible, Thin, Lightweight, Fireproof, Waterproof, Easy Transportation & Installation, environmental, Breathability, Safe & healthy, low installation cost.
3. Installation material: cement/cement binder/silicon/ceramic glue/marble glue/nailing
4. Application: interior & exterior wall decoration.
5. Size: 600*300/590*290/585*285mm*(2-9)mm,1200*600/1190*590/1185*585*(2-9)mm 1200*9850*0.72mm
6. Weight: 2.8-7.5KG/SQM
7. Packing: cartons, wood pallets
8. Order minimum: 1000 sqm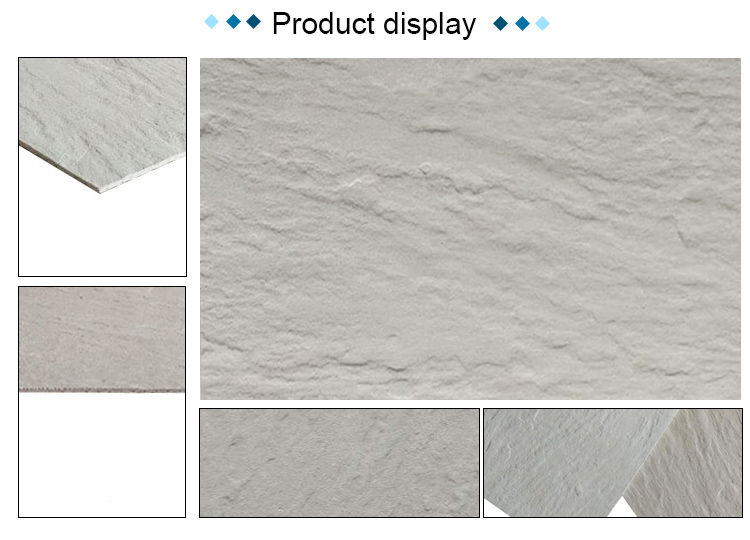 FAQ:
Q1: What's Magic Stone-MCM?
Ans: Modified Clay Material, named as MCM or Flexo-stone.
The amazing appearance and quality of MCM products made from mixing of the inherent colors of Modified Clay and nature stone powder is able to recreate the unique features and characteristics of natural stone, woods, bricks, metal & leather : creativity is the only limits !
Q2: Where can you use this product?
Ans: MCM product is suitable for both internal & external application,
Best for building makeovers or for decorating commercial, office, public, entertainment & domestic space and feature wall.
Q3: What's the composition?
Modified clay material
Common sales specifications:
1200×600mm, 1150×575mm
575×286mm, 600×300mm
240×60mm, 230×58mm
For special size, we can do customize service
You can find exactly size of each product in our product detail.
exterior tiles wall, exterior design tiles, house exterior tiles design, home exterior tiles designs
Soft wall stone is a kind of new wall decoration material, use to substitute the traditional Ceramic Tile, Natural Stone, Paintings etc, is made from the natural stone/mineral powder, high polymer material, is able to recreate the unique features and characteristics of natural stone, have more advantages than the traditional wall decoration materials.